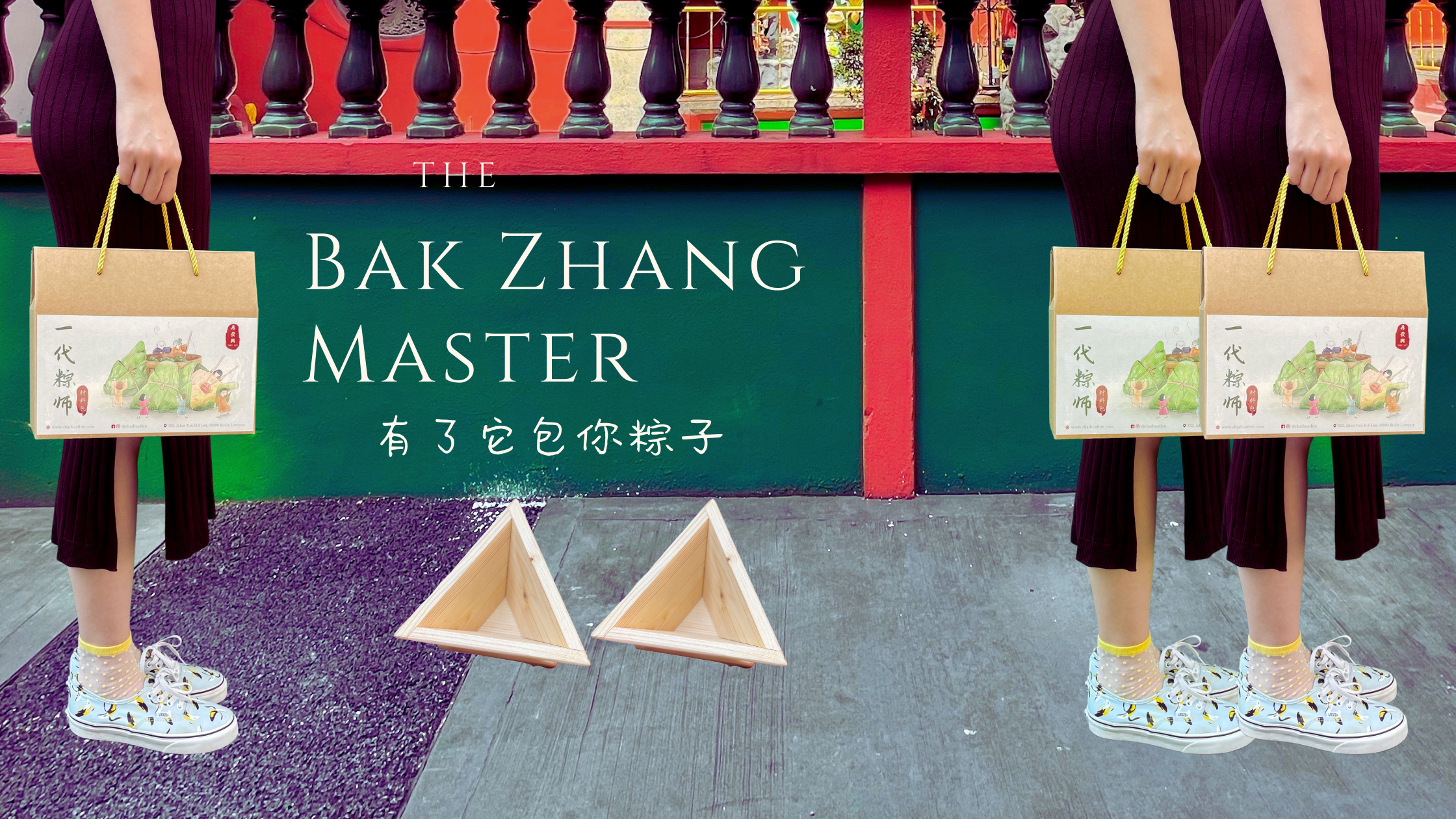 The season to wrap glutinous rice dumplings (Bak Zhang)!
We all love our Bak Zhang(s) however, a lot of us have lost the skill & knowledge to wrap as our parents and grandparents age. At Chai Huat Hin, we are constantly working to preserve traditions by simplifying complicated recipes to suit the current lifestyle. This way we can continue to enjoy traditional recipes and allow our deeply rooted culture be passed onto our future generation.
In this set we have collaborated with local artisans who handmade the mould using high quality solid wood, that would help with the complicated wrapping process. Now we can't complain that our hands are too small to hold onto the dumplings as we wrap ;)

一代粽师,有了它包你粽子!The kind of tool that we've been waiting for our entire lives! Simplifying the wrapping process, so now everyone can wrap.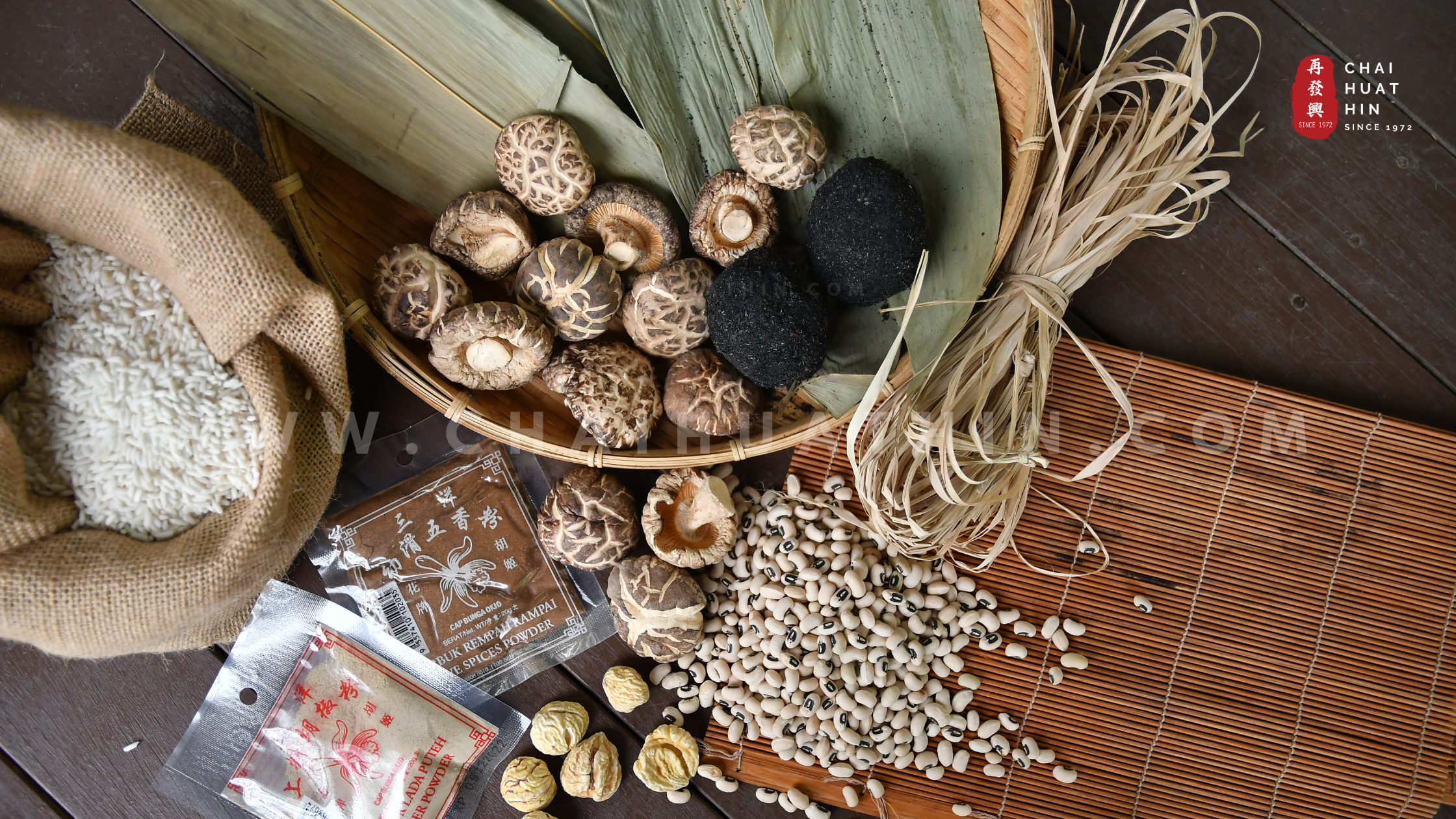 INGREDIENTS (PROVIDED IN THE BAK ZHANG MASTER SET) :

Bamboo Leaves
Glutinous Rice
Shiitake Mushroom
Dried Chestnut
Black Eyed Bean
Dried Shrimp
White Pepper
Five Spice Powder
Salted Egg

MARINADES (Not in the set)

500g Pork belly
3tbsp Dark soy sauce
3tbsp Soy sauce
2 tbsp Oyster sauce

OPTIONAL:



INSTRUCTIONS:
The day before:
Boil bamboo leaves and leave it to soak overnight.
Wipe them clean with cloth, and apply a thin layer of cooking oil on leaves when you're ready to wrap.
Soak glutinous rice, shiitake mushrooms, dried chestnuts and black eyed beans in separate bowls.


Marinating Meat:
- Remove skin from the pork belly.
- Slice pork belly into bite size pieces.
- Marinate pork belly with dark soy sauce, soy sauce, and oyster sauce.
- Add entire packet of five spice powder as well as ½ tsp of pepper to the
marinade. Leave pork belly to marinade in fridge overnight.
The next day:
Slice shiitake mushrooms and salted egg yolks into half. This will make it easier for us to wrap the dumpling later on.


Finely chop shrimps and shallots, add cooking oil and stir fry half the amount until fragrant. Add the remaining dried shrimp & shallots and stir fry for another minute.


Place the marinated meat (Set marinade juice aside) into the stir fry and continue cooking the meat for about 3 minutes.


Continue to stir fry until the meat is cooked through. Dish out and set aside.
Cooking the Mushrooms, Chestnuts, and Black Eyed Beans
Add more cooking oil into the wok/pan and stir fry mushrooms, chestnuts and black eyed beans separately for 3 minutes with 1 tsp of light say sauce each.


Dish out and set aside.
Add the rice followed by the leftover marinade juice from the meat that was set aside.


Stir fry the rice until it picks up all the seasonings and the rice turns slightly sticky. Remove from the heat and let it cool down before using it to wrap
Ready to wrap!
Put 2 pieces of bamboo leaf into the mould, making sure that it is well secured at the bottom. Refer to video below for instructions on how to use the mould.




Make sure the rice is nicely packed down so rice dumpling is nice and tight when it is cooked. Add in the remaining ingredients.


Bring a large pot of water to a boil. Add 1/2 tsp of salt.


Place the rice dumplings in the large pot. Boil it on high for 5 mins then lower the heat to let it gently boil for the next 3 hours.


At the end of cooking time, you can take one out to see if it's cooked through. If the rice doesn't stick to the leaves or fall apart, and the rice holds together nicely. It's done! If the rice falls apart, you need to boil them longer.


Carefully use a tong to gently remove the rice dumplings from the pot to a cooling rack and let them cool down for a few hours before eating them. They will still be soft to touch, but will firm up once they are cooled down completely.


If you have leftovers, you can freeze the rice dumplings in the freezer and it's good for up to 6 months.


When you're ready to eat them, you can remove them directly from the freezer to and steam for about 15 - 20 minutes on high heat before serving.